'Tis the season for outdoor farmers markets! And the best part of visiting our various local markets is that you not only can find great fresh and local foods, you can enjoy the wonderful mountain towns and scenic drives too. Here are a few to check out.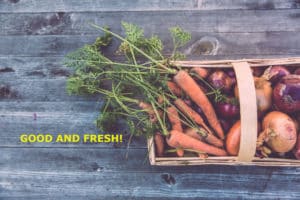 Dahlonega Farmers Market. This fun village (see our May 18, 2017 blog) boasts a market where everything is 100% locally grown and produced. Items to find include fresh eggs, berries, jams and jellies, honey and syrups, pasture-raised meats and more. When you're done shopping here, check out one of the surrounding vineyards.
Now through October 14, 2017
Tuesdays, 2:00 p.m. – 6:00 p.m.
Saturdays, 8:00 a.m. – 1:00 p.m.
Hancock Park
465 Riley Road, Dahlonega
Clarkesville Farmers Market. According to the folks who run this weekly gathering, the farmers who bring goods live within "a quarter tank of gas from the market." Enjoy a visit with the individual purveyors who are selling everything from fresh veggies to luscious cakes. Find handcrafted goods from local artisans too.
May – October
Saturdays, 9:00 a.m. – 12:00 p.m.
The Gazebo in Downtown Clarkesville
Union County Farmers Market. "Homegrown and Handmade" is the mantra of this twice-a-week market in Blairsville. Here you'll see a little bit of everything good and have a chance to visit with the farmers and artisans who grow, produce, or make it. The market's Green Beat Festival, held July 29, 2017, offers more fresh fun.
Opening June 3, 2017
Tuesdays, 4:00 p.m. – 8:00 p.m.
Saturdays, 7:00 a.m. – 1:00 p.m.
148 Old Smokey Road, Blairsville
NOTE: If you enjoy canning or wish to learn, plan a visit to the Union County Canning Plant in Blairsville. Opening for the season in July, the venue offers space and assistance for those wishing to can veggies or make jams.
White County Farmers Market. The extensive market is a cornucopia of fresh and local goods, all grown or produced by those who sell them. Items to check out include flowers and plants; dairy and eggs; meats, fish, and fowl; nuts and seeds; fruits, berries, and all kinds of veggies. The market is held in Cleveland, a charming town that was the subject of a blog in October, 2015.
Now – September 23, 2017
Saturdays, 7:30 a.m. – 12:00 p.m.
Freedom Park (behind the County courthouse)
66 East Kytle Street, Cleveland
Back home at Lucille's Mountaintop Inn & Spa, we grow many of our own veggies and herbs right out back, and always buy locally when we can. Come for a visit this summer and enjoy the bounty with our delicious breakfasts!