Recipes from Our Georgia Inn
One of our most requested (and photographed) recipes: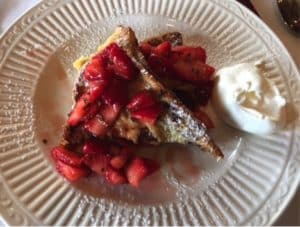 Crème Brûlée French Toast
Yield: Makes 6 servings
Ingredients
1 stick (1/2 cup) unsalted butter
1 cup packed brown sugar
2 tablespoons corn syrup
bread of your choice – we usually use cinnamon raisin bread
5 large eggs
1 1/2 cups half-and-half
1 teaspoon vanilla
1/4 teaspoon salt
Preparation
In a small heavy saucepan melt butter with brown sugar and corn syrup over moderate heat, stirring, until smooth and pour into a 13- by 9- by 2-inch baking dish. Cut six 1-inch thick slices from center portion of bread, reserving ends for another use, and trim crusts. Arrange bread slices in one layer in baking dish, squeezing them slightly to fit.
In a bowl whisk together eggs, half-and-half, vanilla, Grand Marnier, and salt until combined well and pour evenly over bread. Chill bread mixture, covered, at least 8 hours and up to 1 day.
Preheat oven to 350° F. and bring bread to room temperature.
Bake bread mixture, uncovered, in middle of oven until puffed and edges are pale golden, 35 to 40 minutes.
Top with berry preparation of your choice – we usually use the minted strawberries from the recipe below…
Serve hot French toast immediately.
And for those who don't (usually) like oatmeal…
Baked Lemon and Vanilla Oatmeal with Strawberries
Ingredients
5 cups whole milk
½ cup plus 2 Tbsp. sugar, divided
1 tsp vanilla extract
1 tsp kosher salt
1 tsp lemon zest
¼ tsp. ground nutmeg
4 cups old-fashioned rolled oats
Minted Strawberry topping:
1 pound strawberries, sliced
½ cup packed fresh mint leaves, thinly sliced
1 tsp. balsamic vinegar
Directions
Active time: 15 minutes
Total time: 45 minutes
Preheat oven to 350°. Lightly grease a 9×13 baking dish with cooking spray; set aside. In a large bowl, whisk together milk, 1/3 cup sugar, vanilla, salt, lemon zest, and nutmeg. Add oats and stir to combine. Transfer to prepared dish and spread out evenly. (At this point, the oatmeal can be baked immediately or covered and refrigerated overnight.)
Bake, stirring halfway through, until mixture is thick and oats are tender, about 30 minutes. Set aside 5 minutes to let cool and thicken.
Meanwhile, make strawberry topping: In a medium bowl, toss together berries, mint, remaining 2 Tbsp. sugar, and vinegar; set aside 15 minutes. To serve, spoon oatmeal into bowls and add strawberry topping.