Head west! That's where you'd find the gold rush of Georgia back in the early 1800's, and Dahlonega was at the heart of it. Located about 40 minutes southwest of Lucille's Mountaintop Inn & Spa, Dahlonega is a great little day trip where you'll find lots of history and a bustling downtown scene.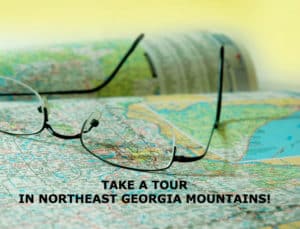 Mining is what put Dahlonega on the map, so a stop at the Dahlonega Gold Museum is a great place to start your visit. A short film and interesting exhibits relay the story of Georgia's gold mining boom. For a close-up look at the operation, take a tour of the Consolidated Gold Mines, once the largest gold mining operation east of the Mississippi. Tour guides are actual miners, providing a great chance to learn from the source. Several other historical sites of note are located in the downtown area and information on them can be found on the town's website.
Today, Dahlonega has moved from gold to tourism, with an emphasis on the arts, music, shopping, wine, and outdoor sports. The downtown (which is listed on the National Register of Historic Places) retains its 19th Century charm with galleries, restaurants, and little shops lining the shady brick sidewalks. Small parks and green spaces add to the all-American feel. The University of North Georgia is based here and its Outdoor Sculpture Exhibitions are also worth a look.
Just outside of town, the Chatahoochee National Forest offers a natural playground; the Appalachian Trail is close by; and anglers will find world-class trout fishing in the Etowah River, Yahoola Creek, and Dick's Creek.
If you'd like to explore Dahlonega area's wineries, a good time to do it is during the Arts & Wine Festival this weekend. Local and regional wines, arts and crafts, and live music make this a popular event.
May 20-21, 2017
Hancock Park/Downtown Dahlonega, GA
Saturday, 10:00 a.m. – 6:00 p.m.
Sunday, 10:00 a.m. – 5:00 p.m.
Admission is free
Like so many of the drives here in the mountains, the one to Dahlonega is incredibly scenic. The drive back is just as great—and even better, are the views from our deck!