Despite all good intentions, the holidays are growing closer and you've still got gifts to buy. Our solution? Head to the northeast Georgia Mountains for a quick shopping trip. From one-of-a-kind local crafts to a luxurious spa, you'll find something to delight everyone on your list. For each of the places, call first to confirm holiday hours.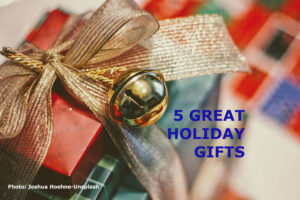 FOR THE CHEF
Even novice cooks know that a drizzle of oil or splash of vinegar can turn a dish up a notch or two. The Mediterranean Sampler from the Olive Tree in Dahlonega includes a combination of three each quality oils and vinegars. It's just one of several varieties available here. If you prefer, you can also customize an order and create your own sample set.
Olive Tree
19 E. Main Street, Dahlonega
706-864-9312
FOR THE NATURALIST
Know someone who loves hiking or fishing. Consider buying them an annual pass to Georgia State Park's. Just $50, the pass eliminates paying a parking fee every time one visits, and the money helps fund renovations, trail work and other worthwhile projects. The more gifts, the more you save, as the parks offer a discount for 10 or more passes. (Allow 7-10 business days for shipping).
FOR THE ARTSY FRIEND
Stunning hand-blown glass creations are the trademark of Philip and Janine Shelby, the talents behind Glass Mountain Gallery & Studio. Utilizing glass blowing (Philip) and techniques such as raking molten glass (Janine), the duo fashions beautiful vases, bowls and other artistic items.
Glass Mountain Gallery & Studio.
57 Clayton Road, Helen
706-878-1978
FOR THE BATHING BEAUTY
Lavender is said to symbolize love and devotion, so it's a perfect essence to shower on the lovely lady in your life. At the Lavender Lamb Farm in Cleveland you'll find a variety of handmade lavender soaps, bath bombs, body lotions, candles and more, all produced right there at the farm. A good time to shop: Open House, December 8, 2018; 11:00 a.m. – 5:00 p.m.
Lavender Lamb Farm.
1717 Highway 255 South, Cleveland
706-865-0510
FOR THAT SPECIAL SOMEONE
If your gift list includes someone who could use a little well-deserved pampering,. check out The Spa at Lucille's for a wide range of joy-inducing options, like a soothing massage, or rejuvenating facials and body treatments. You can purchase a Spa gift certificate for any individual treatment, or choose one of our Spa Packages that combine some of our more popular selections. (Or choose a Lucille's Gift Certificate that can be used for a guest room or any other product or service our Inn offers.)
Better yet, make a reservation at Lucille's Mountaintop Inn & Spa and test out just how nice a few hours of spa time can be! Call today for a holiday getaway or book your stay online.