For more than 60 years, folks have been visiting Alexander's Department Store for—as the store logo claims—"everything under the sun." If you're looking for a particular item, or just love to poke around a cool store, this is the place to visit.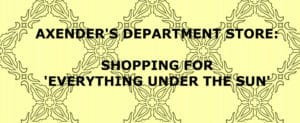 A lot has changed since Hoyt and Ruby Alexander purchased a small trading post and began selling seed, groceries and gas to the locals six decades ago. As the community's needs grew, so did the merchandise they carried. Clothing was added, then household necessities, and on and on. Today, you can find pretty much everything here, minus the groceries. Departments include ladies' and men's clothing, shoes, and boots; appliances; furniture, appliances, sporting goods; and gifts and accessories. The selection runs the gamut from trendy to the classic.
While the store has grown over the years, the feeling of the place is pretty much the same. Still family-owned and proud of it, the store reflects the mountain community. Shopping here takes on a slower pace. You'll find the service is friendly and personal—help is there for you when you want it. All of which makes shopping here a real treat.
Alexander's Department Store
4482 Town Creek School Road, Blairsville
706-745-6450
Monday – Saturday, 10:00 a.m. – 7:00 p.m.
To read more about Blairsville, check out our September blog about the town.
Then plan a stay with us at the Inn, where you'll find the stunning setting is complemented by our comfortable rooms and personal service.