Some morning after breakfast at the Inn, take yourself on a drive up to Blairsville, about a one-hour drive north. With its beautiful mountain setting, it's an enjoyable destination whether you like to hike, visit wineries, shop, or just hang out in a quaint little town.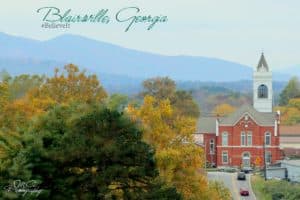 The gold boom of the 1830's brought attention and settlers to Blairsville, which was originally inhabited by Native Americans. Not much later, it became the Union County seat, a title it still holds today. The town is surrounded by the Chatahoochee National Forest which offers miles of trails, waterfalls, and endless enjoyment to visitors and local Georgia residents.
Due to its rich soil, the Blairsville area carries the distinction of an American Viticultural Area (AVA) and you can get a taste of local wine at Odom Springs Vineyards, a family-owned estate winery that makes a variety of wines, including its prize Earl's Reserve, an award-wining, estate-grown Chambourcin. If it's moonshine you're after, Blairsville has some of that too! At Grandaddy Mimm's Moonshine Distillery, you can tour and taste its Original Recipe 100-proof Corn Whiskey, 140-proof Mule Kickin' Moonshine or one of its 40-proof flavor varieties.
Strolling the streets of Blairsville, you'll find a variety of antique shops and furniture stores, typical in these North Georgia Mountain towns, as well as a few good homegrown spots for lunch.
Blairsville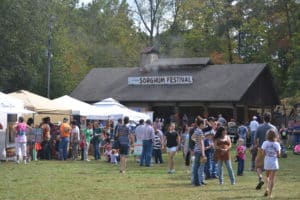 is a town that loves festivals. Its most popular one—and the largest—is the Sorghum Festival, held for two weekends in autumn. Part of the Blairsville heritage for more than 48 years, the event celebrates the art of making and cooking with the sweet syrup.
October 14-15, 21-22, 2017
Downtown Blairsville, GA
706-745-5789
9:00 a.m. -5:00 p.m.
13 and older, $4; 12 and under, free
Day-tripping from Lucille's is a wonderful pastime for our Inn guests. What makes it even more enjoyable is returning "home" to relax at the end of another good day!
Photos courtesy of Blairsville/Union County Chamber of Commerce.