The small town of Clayton, Georgia, is home to a restaurant with big time flavors. Fortify Kitchen & Bar, the brain child of Jack Nolan (owner) and Jamie Allred (owner/chef) is a favorite of ours, and one that we love sending guests to because they always come home happy.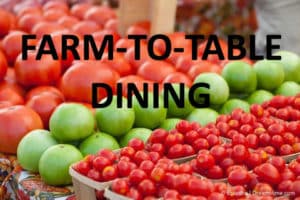 Clayton is a picturesque village with a nice town square and little shops, surrounded by lush farms that supply much of the ingredients for Fortify Kitchen & Bar. The restaurant is adamant about supporting local farmers and sustainable practices, and its menu is a reflection of this. From starters such as fried green tomatoes, soups and salads through dessert, dinner here is a treat.
My favorite dish? The Grits Bowl, a delectable serving of Gulf shrimp, Heritage Farms Andouille sausage, spinach, Sylvan Falls Mill grits, and a special shrimp bisque sauce. Delicious! A few other popular entrees include cornmeal crusted fresh trout with Georgia pecan brown butter; Black Angus filet mignon; and a homey meatloaf made with ground short rib, brisket, and chuck served with mashed potatoes and smoked bacon-bourbon barbecue sauce. Pork, veal, chicken, seafood, and daily specials round out the menu. Save room for dessert—the tempting options include a delectable flourless chocolate cake with pecan brittle, homemade ice cream, and other sweet delights.
Fortify Kitchen & Bar is one of the nicest restaurants in our area, with a staff that is excellent, and a nice bar to relax in. It's about a 40-minute drive from Lucille's, and a great choice when you're heading to Tallulah Gorge or Tacoa.
Fortify Kitchen & Bar
69 N. Main Street, Clayton, GA
706-782-0050
Lunch: Wednesday – Sunday, 11:30 a.m. – 2:30 p.m.
Dinner: Tuesday – Sunday, 5:00 p.m. – Until
More great farm-to-table dining can be found right here at Lucille's Mountaintop Inn & Spa, where we also use local suppliers and ingredients from our own garden. Come enjoy a taste of it!