If you're heading up to explore the North Georgia mountains, be sure to check out the Wander North Georgia website. This innovative company is a terrific resource for Lucille's guests.
Wander North Georgia is like an online concierge, offering inside information on sites to see, where to eat, and things to do. In addition, there's a cool brick and mortar store you can visit.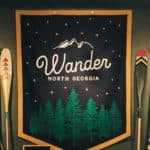 Coming for a weekend getaway? Wander North Georgia has weekend guides for mountain towns, such as Clayton (where its store is located). Looking for the darkest spots to stargaze? Data on hiking in the area? Where to find the best of fall apples? Wander North Georgia has answers for all of these and now—it has a cold beer too!
Nolan the Wanderer is a special IPA beer series that is a collaboration between Wander North Georgia and Reformation Brewery. Each batch of beer offers a new IPA adventure in taste. The summer Adventure #002 is a New England IPA with tropical notes of mango, tangerine and pineapple. Another Nolan IPA adventure will be coming soon, so keep an eye out in your local store.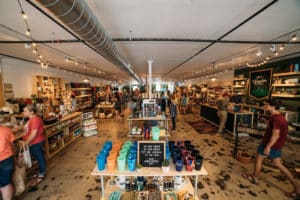 And if you're in the Clayton area—a 40-minute drive northeast of Lucille's—be sure to visit the Wander North Georgia store. The staff will be happy to offer recommendations on where to hike or bike and you can peruse the stash of cool items for sale, from jewelry to tents.
Wander North Georgia
33 North Main Street, Clayton, GA
Wander North Georgia is a lot like our staff at Lucille's Mountaintop Inn & Spa: making sure you're got everything you need to enjoy a getaway in the mountains. Come visit us this fall! Book online or call today for your reservation.
PHOTOS COURTESY OF WANDER NORTH GEORGIA.