Touring the wineries in the North Georgia Mountains is a lovely adventure, especially when you get to visit pretty destinations such as Dahlonega and the Three Sisters Vineyards.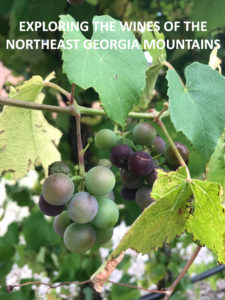 The drive up to the winery reveals rolling hillsides of grapevines nestled in the mountains. A large wooden barn for special events and a crisp white gazebo—a favorite spot for weddings—dot the landscape. Near to the main building and the tasting room is a rock wall patio where visitors can linger with a glass or two of wine. The winery is a labor of love that began in 1995 when Sharon and Doug Paul bought the property. Sharon's brother soon joined the duo and a family business was born.
Three Sisters Winery sits on 184 acres and takes its name from the Three Sisters Mountain to the west. It proudly uses only 100% Georgia fruit that's 100% Estate grown, reflecting the "terroir" of local Lumpkin County. The small family winery cultivates nine varieties of grapes for its wide selection of wines. Among these wines are Three Sisters Vineyards Cynthiana, a big and bold red wine with notes of cherry and cinnamon; a rich Pinot Blanc with a hint of pear and honey; a smooth Georgia Port; Dahlonega Gold ice-style dessert wine; and Peachtree Dance, a fruit-infused chardonnay. Three Sisters also produces several sparkling wines.
Visitors can stop by the Tasting Room for samples. Special offerings include a choice of five wines from the Vintner's Tasting Menu and a "Chicks and Chocolate" tasting. The winery also has special events throughout the year, including the current Swine Wine Weekends, featuring BBQ, music, and wine on Saturday and Sundays through October.
Three Sisters Vineyards
439 Vineyard Way, Dahlonega, GA
706-865-9463
Tasting Room Hours: Thursday – Saturday, 11:00 a.m. – 5:00 p.m.; Sunday, 1:00 p.m. – 5:00 p.m.
Vintner's Tasting Menu, $17.50; Chicks and Chocolate, $25
If you buy a bottle of Three Sisters Vineyards wine, you can enjoy it back here at Lucille's Mountaintop Inn & Spa, while relaxing in your room. Sound inviting? Then plan a getaway this fall. Give us a call today or book a stay online!