The baby's room is all prepped and you're as ready as you can be. Now's the time for a quiet escape before the big day arrives! Come to Lucille's Mountaintop Inn & Spa in the Northeast Georgia Mountains and enjoy a little "me" time with our "Oh, Baby Baby" Babymoon Package.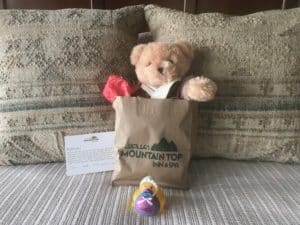 The special package is designed to pamper soon-to-be moms and dads. You'll be welcomed into one of our beautiful Mountain View rooms, featuring panoramic vistas, a pass-through fireplace, whirlpool tub and separate double-headed shower. After settling in, walk over to our Spa and we'll treat you to a 55-minute Prenatal Massage that can help relieve your lower back pain and reduce hand and feet swelling. While you're being cared for, Dad will get his own soothing 55-minute massage. And we've got a special gift basket for baby too!
Wind down your day with Lucille's complimentary decadent dessert offering, and maybe snuggle up with a movie from our extensive DVD collection. Then ease into the morning with our delicious home-cooked gourmet breakfast.
The Babymoon Package includes early check-in (1:00 p.m.), two massages, baby gift basket, evening dessert and breakfast. Package total: $220. Price does not include room rental, tax or gratuity.
Book online or call us to schedule your special getaway at Lucille's Mountaintop Inn & Spa.
Oh, and don't forget, we love getting new baby pictures!