Special requests don't ruffle our feathers. We love to make things just for you—and your special diets. Case in point, these easy-to-make, yummy cookies. We've discovered that everyone loves them. Sorry vegans, you'll have to share!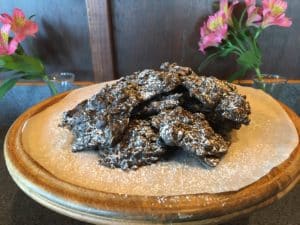 Makes about 2 dozen cookies
½ cup granulated sugar
½ cup brown sugar, packed (1 cup Splenda may be substituted for both of the other sugars)
½ cup coconut oil
¼ cup coconut milk
4 Tbsps. cocoa
1 pinch kosher salt
½ cup creamy peanut butter*
2 tsps. vanilla extract**
2 cups quick-cooking oats
Place first seven ingredients (sugar through salt) into a 4-quart saucepan.
Bring to a rolling boil and boil for 1 minute.
Remove from heat,
Add peanut butter to saucepan and stir until melted.
Add vanilla.
Mix in the oatmeal and stir until oatmeal is completely coated.
Drop cookies by tablespoon onto wax paper.
Cool until set.
*Chunky peanut butter can be used but it will result in a more crumbly, dry cookie.
**Almond extract is also good; use ½ teaspoon almond and cut vanilla extract to 1½ teaspoons.
NOTE: The original recipe called for 1 cup of white sugar, but I use ½ cup white and ½ cup brown sugar. This makes them moister. Old-fashioned oats may be used instead of the quick-cooking ones, but I prefer the texture with the quick oats.