Sign up for a trip with Nacoochee Adventures in Helen, Georgia, and you'll be getting a lot more than just a whirlwind ride. You'll also learn about the area, from Native American history to the gold rush, moonshine makers, and more!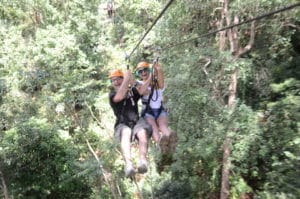 Formerly known as ZipNTime, Nacoochee Adventures offers a range of canopy tours with plenty of breathtaking thrills, including the longest dual zipline in the continental United States. All of the zipline platforms are tree based, the highest reaching 70 feet above ground. Experienced certified guides zip with riders, providing commentary along the way.
Itching for a chance to soar? Check out these Nacoochee Adventures' tours.
Moonshine Canopy Tour. This basic trip lasts from 1-1 ½-hours and is a good introduction to ziplining. $49/person.
Big Zip Intimidator. A nearly ½-mile trip that includes the dual zipline mentioned above. The tour begins overlooking Mount Yonah where guides relate the Sautee Nacoochee Indian Mound Legend. $30/person
Goldmine Canopy Tour. This starts with the Moonshine Tour, adds another line, then takes you on a short hike deep into an 1800's gold mine. $69/person
These are just a few of the tours Nacoochee Adventures offers. You'll find a complete listing on their website.
Nacoochee Adventures
7019 South Main Street, Helen, GA
706-878-9477
Monday – Saturday, 10:00 a.m. – 4:00 p.m.
Sunday, 12:00 p.m. – 4:00 p.m.
After a few hours of soaring, may we suggest an hour or so of pampering? Thought so! Call to book your stay at Lucille's, and book one of our Spa Treatments at the same time. Your body will thank you!