Some day when you're out driving around the beautiful mountains up here, head over to Clarkesville and stop by The Attic Restaurant for a meal. You'll find it right on the square in the cute downtown.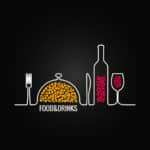 The Attic is located in a nifty old building that was once a corner gas station, giving the place a comfortable, easy-going vibe. Dining here is a relaxing and pleasant affair. Not sure what you feel like eating? No problem. The Attic has a varied menu with a little something for everyone.
Traditional Southern flavors highlight the starters—dishes such as pimento cheese and lobster served with tortilla chips, shrimp cakes, and fried green tomatoes. Entrees are equally comforting: meat loaf with garlic mashed potatoes, pecan crusted trout, Creole pasta with shrimp and Andouille to name just a few. And the Pork Chop with prosciutto, provolone, and spinach is very good, but bring an appetite—it weighs in at a whopping 22 ounces!
You'll also find burgers, sandwiches, several soups, and a nice lineup of salads, including an appropriately named Summer Salad that has strawberries, bananas, and pineapples tossed with other seasonal ingredients.
The Attic is a pretty 15 to 20 minute drive from the Inn and—bonus!—it's open on Mondays.
The Attic Restaurant
1344 Washington Street, Clarkesville, GA
706-839-1811
Monday – Thursday, 11:00 – 9:00 p.m.
Friday – Saturday, 11:00 a.m. – 9:30 p.m.
Sunday, 11:00 a.m. – 8:30 p.m.
While driving through the mountains is delightful any time of year, it's especially lovely now as wildflowers pop into bloom, including all around Lucille's Mountaintop Inn & Spa. Book a stay soon to enjoy them!