A great way to toast the spring and summer season is with a trip to one of our area wineries. Several are nearby Lucille's Mountaintop Inn & Spa, and all are within an easy drive. Plan to stop by any of them for a tasting, or enjoy one of these upcoming events.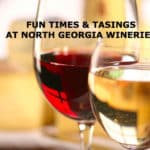 25th Annual Winefest at Habbersham Winery. This afternoon celebration highlights vintages from more than a dozen wineries in Georgia and the region. Enjoy great wine, music from Time White, and food. Tickets include 15 tastings and a souvenir wine glass. Be sure to don your fanciest hat for the fest—there'll be a Kentucky Derby Hat Competition as well.
May 6, 2017
12:00 p.m. – 5:00 p.m.
Habersham Winery
7025 South Main Street, Helen, GA
706-878-9463
$30/person; $10/non-drinker entrance fee
Masterpiece Mixers. Yonah Mountain Vineyard encourages all to test their painting skills on the third Saturday of each month. Supplies will be provided and a professional teacher will guide you step-by-step as you create your own work of art. Oh, and there will be wine too!
Third Saturday of the Month
Yonah Mountain Vineyards
1717 Highway 255-S, Cleveland, GA
708-878-5522
2:00 p.m. – 4:00 p.m.
$45/person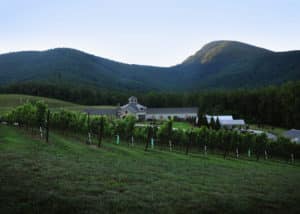 The Crusher Vineyard & Trail Race. Here's your chance to run freely through the 200 acres of vineyards and wooded trails at Yonah Mountain Vineyards. 1-mile fun run, 6-K, and 12-K races, with giveaways and t-shirts given out on race day.
Saturday, May 27, 2017
Yonah Mountain Vineyards
1717 Highway 255-S, Cleveland, GA
708-878-5522
7:15 a.m./1-mile fun run
7:30 a.m./6-K and 12-K races
$35/6-K, $45/12-K
Lunch at the Winery. At Kaya Vineyards in Dahlonega, you can enjoy dining on the covered patio while listening to music and sampling wines. Salads, charcuterie plates, paninis, and a few other light dishes are available.
Kaya Vineyards
5400 Town creek road, Dahlonega, GA
706-219-3514
Lunch: Wednesday – Sunday
Wednesday – Saturday, 11:00 a.m. – 5:00 p.m.
Sunday, 12:30 p.m. – 5:00 p.m.
Live Music at the Winery. Multiple wineries offer weekend music events. Serenity Cellars, located in Cleveland, has music Fridays and Saturdays, with Brick Oven Pizza Night on Fridays. Bring all the makings for a pizza and they'll cook it in their brick oven at no charge. Another Cleveland winery, Cottage Vineyard, has music on Saturday evenings and Sunday afternoons. And Yonah Mountain Vineyards highlights local talent at their Saturday night music events.
Serenity Cellars
Friday, 6:00 – 9:00 p.m.
Saturday, 2:00 p.m. – 5:00 p.
265 Laurel Ridge Road, Cleveland, GA
706-348-1277
Cottage Vineyard Winery
Saturday – Sunday, 1:00 p.m. – 5:00 p.m.
5050 US Highway 129N, Cleveland, GA
334-328-8575
Yonah Mountain Vineyards
Saturday, 12:00 p.m. – 8:30 p.m.
1717 Highway 255-S, Cleveland, GA
708-878-5522
You can also taste some of these local wines, as well as others, back here at the Inn while lounging on our deck. Plan a stay soon—we'd love to have you!