Our most popular special ever is back — and just in time for May flowers!
Take a spring escape to our luxury bed and breakfast in the mountains of North Georgia and enjoy extraordinary savings from May 1 to May 25, 2017. Stay three consecutive nights, Sunday through Thursday and get your third night free.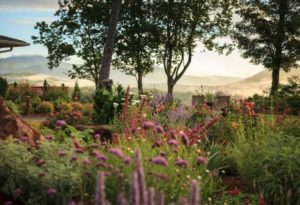 It's an offer too good to pass up, at a time when the mountains around us are bursting in color. Kick your feet up on our porch and relax, take a drive through the countryside, or poke around the shops in Helen and surrounding towns. You'll find lots to do—and lots of reason to just do nothing but your beautiful surroundings.
Book your three-night getaway at Lucille's Mountaintop Inn & Spa and we will apply the discount. (Don't worry about the price of the third night; if you meet the Special's requirements, we'll just zero that out!) Or, if you prefer, call us at 706-878-5055 to make your reservations. Remember, to take advantage of this May Special, the three nights must be consecutive and used Sunday through Thursday.
This offer is valid for new reservations after 4/5/17 only, Sundays through Thursdays between May 1 and May 25, 2017.
Accommodation is based on double occupancy. Includes breakfast and evening dessert. Tax and gratuity not included.